I usually read through production credits for music that I listen to. I knew that Deltron 3030 was a team made up of Dan the Automator and Del the Funkee Homosapien, but there was another major contributor that I never really knew much about before, @therealkidkoala aka Kid Koala. I think DJ's don't get enough credit because DJ's play an instrument that most people don't understand. Listening to Deltron 3030, you get a good idea of how much a DJ can bring to a hip hop album. I'm not exactly sure who is responsible for the beats and samples because Dan the Automator and Kid Koala are both capable of producing the tracks on the album. That's why I think it's really important that Kid Koala gets recognized for that collabo project as well as Dan the Automator.  Maybe not as the producer of the full album, but at least as a contributor.  Kid Koala has a unique style of playing his instrument and Deltron 3030 would have been a completely different album if DJ Babu was on it. No disrepect to Babu, I mention him because he's one of the best DJ's around. So to me, it doesn't matter exactly where the line is drawn between Automator and Kid Koala for the Deltron 3030. I write about what I like and I won't mention an artist unless I genuinely like their work.
[audio:http://ra-nyc.com/boywithstick/wp-content/uploads/2011/04/07.-Virus.mp3|titles=07. Virus]
It's amazing how discovering a new album can be self revelatory. I wrote about Blockhead ( @blockheadnyc )  a while ago and I'm always looking to find other artists that make similar music. Not only does Kid Koala provide that new outlet for hip hop influenced electronic music for me, they are signed to the same record label. They are both signed to the UK based label, Ninja Tune. One click of the mouse connected a lot of dots for me because I also learned that it's also the label that Roots Manuva signed to. I heard a few tracks from Roots Manuva, a UK artist that fits the description above. Now, I'm obligated to search through the artists signed to Ninja Tune because it could really open a door into this genre that I've been craving. I already like 3 artists on the label, so it's probable I will find some more artists.
I recently grabbed Kid Koala's collabo album, 100% (The Slew) and I definitely recommend it if you can accept that the artists plays instruments, aka isn't constantly demanding eye contact. One cool thing about Kid Koala, @therealkidkoala is that when I started following him on Twitter, he wrote to me thanking me for listening. It's not like the guy doesn't have better things to do. I checked out his schedule and he has tour dates in South Africa, Chicago, Germany and Minneapolis (among others across the US and Europe).
Another interesting fact about Kid Koala is that he makes graphic novels. For someone that is talented behind the wheels of steel, he also has an eye for visual arts as well. When you think about it, it makes sense. His style of music tells stories using records. It makes sense that way of thinking would produce movies or create comic books. That's only true if your attention span can handle more than one song from the same artist.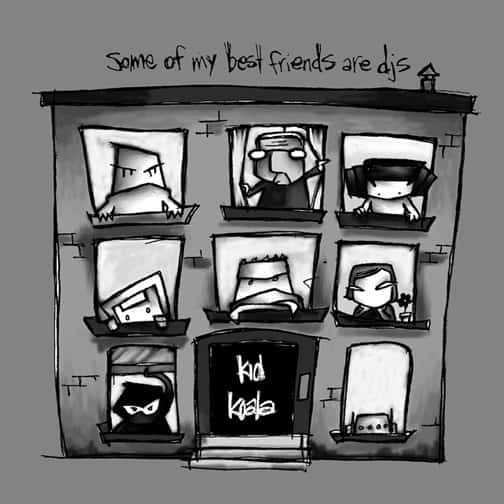 Some of MY best Friends Are DJ's, Kid Koala, 2003
If you listen to music in the background for everything that you do, like I do, Some of My Best Friends Are DJ's is for you. It works perfectly when you need music that keeps you going, but doesn't demand your 100% attention for the full album. That could be confused to mean that it's background music or that it's not good, but it's not the case with this album. You will find yourself naturally getting excited or cooling off as the album continues. It's the nature of the music since there are few lyrics, you can focus on the music and the turntables.  However, I recommend listening to the album from beginning to end.
Kid Koala's samples are unique and include New Orleans jazz, hard hitting hip hop beats with scratched harmonicas and hilariously random samples about sea cows, high-fi heads and the terrible sounds koala bears make. He makes his album experiences similar to some well executed indie films.
100%, The Slew, 2009
100% is a completely different type of album than Some of My Best Friends Are DJ's. 100% is a collaborative group project called The Slew that includes Kid Koala, Dynomite D and rock and rollers Chris Ross and Myles Heskett.  This album definitely has more of a rock and roll vibe mixed with hip hop beats/turntablism. The genre that came up for this album was punk, but I don't buy it. I honestly think people from New York City to LA could dig this album. Not all people that love hip hop like other genre, but if you are open to experimental hip hop, you will definitely want to pick this album up.
[audio:http://ra-nyc.com/boywithstick/wp-content/uploads/2011/04/KK-04_You_Turn_Me_Cold.mp3|titles=KK-04_You_Turn_Me_Cold]
Links
PS.........If you like this post and music, share it with your friends online and so on. There is plenty of good music being made in 2011 and if you know about some, why not share it? Sometimes, people need to remember that creativity doesn't die, it just changes with time. Check out the columns on www.boywithstick.com to see if there are other artists that you like. Why? Because who decides when an era begins or ends? Not me.......
Ronin