There haven't been too many albums that I really keep tabs on before their release date. Over the past year, Random Axe, Joell Ortiz and now Elzhi's Elmatic are all albums that I kept up despite the everchanging nature of album release dates. Elzhi's Elmatic is set to drop tomorrow, so before you look into that, here is an album that held me over these past couple months.
The Leftovers, Elzhi, 2009
Facebook has my conscious running wild if I am a fan of something or not, but I can honestly say that I'm a fan of Elzhi's music. I wrote about the Preface before, but there are a few remixes from The Preface on The Leftovers Unmixedtape and there are some solid new tracks too (4 old and 9 new). Whatever your methods are for getting music, utilize them.
If you're not familiar with Elzhi, he joined Slum Village back in the 90's, but he wasn't one of the original members. Elzhi lyrically raised the bar within Slum Village and Trinity (Past, Present and Future) is the evidence. Elzhi is an under appreciated artist out of Detroit and if you are into lyricists that know how to pick a producer, Elzhi is for you. He works with Black Milk a lot and he put out this mixtape after The Preface dropped in 2008, with two tracks as the exception The Preface was produced entirely by Black Milk. I didn't even know about this album until about 6 months ago, but I'm glad I found it. There are so many mixtapes out, but the video for Deep caught my attention and I had to wrap my megabytes around these tracks. It makes me wonder though, how many tracks like these go unused?
I have written about Elzhi before, so click here to get my take on his style. The Leftovers Unmixedtape features Danny Brown, who is another mc that you should keep an eye out for. The songs that I have heard from Danny Brown have been bangers and I can't wait to see more of his work. He has a very raw/explicit and creative way of taking shots at people that definitely adds life to tracks.
[audio:http://ra-nyc.com/boywithstick/wp-content/uploads/2011/05/03-elzhi-contra_feat._danny_brown-noir.mp3|titles=03-elzhi-contra_(feat._danny_brown)-noir]
[audio:http://ra-nyc.com/boywithstick/wp-content/uploads/2011/05/07-elzhi-living-noir.mp3|titles=07-elzhi-living-noir]
When the doom and gloom alleged hip hop fans say there's nothing fresh or new coming out, Elzhi is an artist that I always use to counter the hip hop is dead movement. It's alive and well. In my previous blog entry, I wrote that just because an artist makes a tribute album to Illmatic, it doesn't mean that they are as lyrically gifted as Nas. I'm not trying to be controversial by comparing Elzhi to Nas. It isn't exactly a fair comparison. Illmatic is a classic album that changed the way artists produce albums. So, I'm not going to make that comparison. But, when you get the right lyricist that has the strength, skill and confidence to do it right, you can make powerful albums based on the original. Fashawn successfully did it on Ode To Illmatic, and I wrote about that back in 2010. I do think the saturation point of tribute albums is reaching it's limit though. Especially when it comes to Illmatic. It's a tremendous show of respect to an artist that deserves every bit of credit, Nas. But it has already become a trend and the industry machine will destroy classics with subpar talent. I already wrote about the remake of Juice, so I'm not going there again. But I would hope that you see what I mean. Hip hop is already based on sampling previously made records, sounds, movies and interviews. The constant use of the same album could take the creativity further out of hip hop production. So, I hope there won't be more tribute albums in the future. Or if there are, I would hope producers will look to more albums to sample from.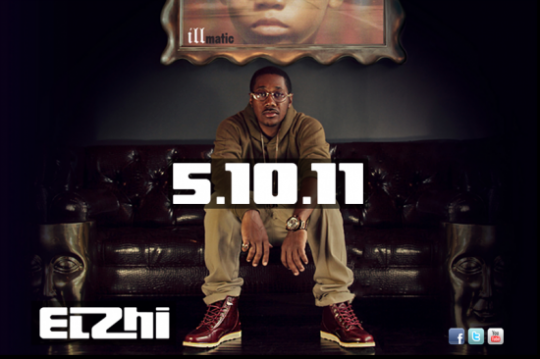 There is no doubt that Elzhi's upcoming album, Elmatic will take pieces from Nas' Illmatic and bring it somewhere else. The video teaser leaked for Halftime highlights instrumental interpretation that shows a lot of potential. With each album, Elzhi grows creatively and Elmatic drops tomorrow (Tuesday, May 10th) so in the meantime, go find a copy of Elzhi's The Leftovers Unmixedtape to get you ready for his album tomorrow.  The only question left to answer is...what are you doing tomorrow?
Ronin