The Preface, Elhzi, 2008
I just listened to this album this morning on the way to work and I thought I would re-post this.  I originally posted this on my previous blog, but it's a great album and it's worth the time.  I knew about this album before it was released back in 2008. I'm a huge Slum V(illage) fan. Their first two albums [Fantastic Vol. 2 and Trinity (Past, Present and Future)] were classics and their third album (Detroit Deli) wasn't as strong as the first two, but there were a couple great songs on it. It's hard to imagine that one group had so much talent. Within the past couple years; they have lost Dilla (Jay Dee, etc) and Baatin, RIP. They were true talents that the world needs to look back at with respect for their musical gifts. While there was a lot of lyrical talent in Slum Village, Elzhi always stood out to me. Elzhi steps it up in several songs on Trinity (Past, Present and Future). I never wanted to see Slum Village break up, but Elzhi's album is a continuation and a tribute to the classic group that has made a huge mark on hip hop music.
Detroit is a really fertile place for hip hop right now. Elzhi, Royce Da 59, Phat Kat, Eminem, Guilty Simpson, Finale, Obie Trice and Black Milk are just a few Detroit's finest.  While new classics drop, it's always nice to catch up on classics that may have slipped through the cracks.  Elzhi released a mixtape after this album called The Leftovers Unmixedtape.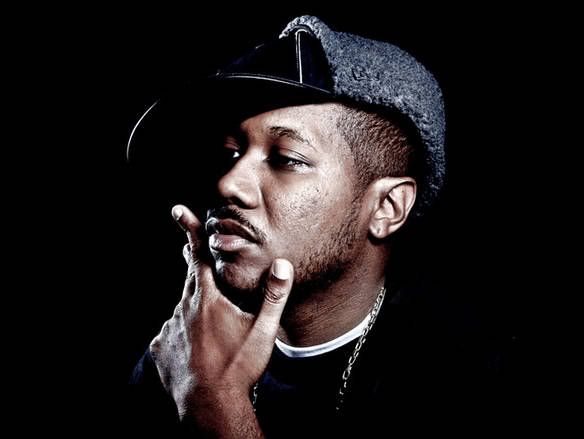 Style
I would imagine that it would be hard to like hip hop if you can't digest the lyrics, in real time. If you can't do this, you would probably still like this album. The beats are tight and Elzhi knows how to handle up tempo, down tempo or choppy beats. He has a very articulate, poetic, witty, sometimes arrogant and boldly confident style. He shows his creativity with his word play, the way his words sound and the imagery that the words create. He is an amazing story teller and he has developed a trademark technique. His intense and tenacious tempo attacks beats to the point of exhaustion and then he pauses to let your brain fill in the blank with the logical word and then he switches it up with another word to keep the song going. This song is called "The Guessing Game".
In my opinion, Elzhi is best at coming up with creative concepts for his lyrics. Colors, D.E.M.O.N.S., Talking in My Sleep, Hands High and The Science are four songs where the concepts are phenomenal. On top of that, the other tracks are filled with sick verses. He has a choppy flow that is always playing off the music. I guess when you are used to working with giants like Dilla; it would be hard not to work off the music.  The Preface was mostly produced by Black Milk except two tracks (produced by T3 and DJ Dez).
Featured Track
The track that I chose to feature from this album is Talking in My Sleep.  It's a great song and it is hard to pick a song to represent the album because there are so many good tracks with completely different sounds.  In the end, this song, Talking in My Sleep takes you through Elzhi's interpretation of a dream/drama and it's a really great example of Elzhi's skills as a writer and story teller.
[audio:http://ra-nyc.com/boywithstick/wp-content/uploads/2010/11/12-Talking-in-My-Sleep.mp3|titles=12 Talking in My Sleep]
Top Tracks
The Leak, Guessing Game, Motown 25, Brag Swag, Colors, D.E.M.O.N.S, Yeah, Transitional Joint, Talking in My Sleep, The Science, Hands Up, What I Write, Growing Up F.A.B.
Links
Elzhi Homepage Click Here
Elzhi on MySpace Click Here
Ronin