Warriorz, M.O.P. 2000
I'm an 80's baby. I was born in 1980 and I witnessed the introduction of hardcore/"gangsta" rap. N.W.A. really broke the mainstream's back with it's images of gang life in LA and they refused to bend for the industry. The backlash from the media only made artists more outrageous and push the limit.  A lot of mc's and groups were hardcore, but M.O.P. was never softer than their neighborhood, Brownsville, Brooklyn.  The difference between the west and east coast hardcore hip hop is that the east coast didn't have the established, nationwide gangs like the Bloods, Crips, Vice Lords, etc.  Of course they exist(ed) in NYC, but not like they do in other places.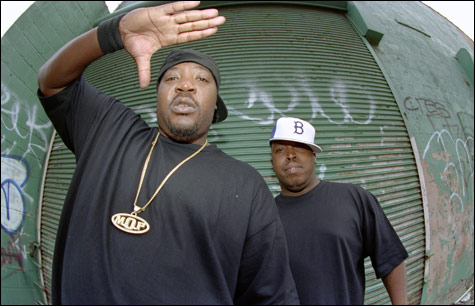 M.O.P shoved their way onto the main stage with Warriorz, which is a movie by the way (trailer below). The movie is about a crew called The Warriors that are trying to make it back to CI, aka safety. The Warriors movie is a lot softer than the vibe of M.O.P though. A lot of people don't have the stomach for M.O.P. because they make a point of maintaining their rugged and raw style over boom bap DJ Premier tracks. Personally, I appreciate the different styles of hip hop. Poetic, beatnik, underground, mainstream, sewer, battle rap, revolutionary but gangsta, political, battle, laid back, comic book, backpacker and the list goes on. They are all part of hip hop music and to me, as long as the lyrics and production are unique, creative, witty and/or thoughtful, I can appreciate it.
Lyrically, Billy Danze and Lil Fame have that Brooklyn bravado to the nth degree and back it up with talent. Think about it for a second. For M.O.P. to maintain their hardcore hip hop without becoming stale, they have to keep their lyrics consistent, creative and never let up. After hearing a couple guest appearances lately of M.O.P., I figured that I should give people the heads up about Warriorz before they drop a new album (BrownsVILLAINZ).  Just as a warning, if you aren't at the right club and they put on Ante Up, things might just get out of control. Also, if you lift weights, you'll thank me for your new-found motivational soundtrack.
[audio:http://ra-nyc.com/boywithstick/wp-content/uploads/2011/03/012-m.o.p.-calm_down-ego.mp3|titles=012-m.o.p.-calm_down-ego]
Before you start this extremely intense video, Ante Up, I want to put it in context of the year 2000.  In 2000, hip hop was trying to deal with the over commercialization of the rap industry.  It was even more extreme than the usual monkeys dancing for bananas because the we all could feel the light of the Golden Era fading.  The only videos that got airplay was the stereotypical, platinum chains, expensive cars, video girls, throwing money, sipping champagne, etc.  It was everything that The Roots made fun of in their What They Do video.  I had already given up hope that the mainstream would still give airtime to the underground artists like they did from 1991-1995 and I was personally tired of seeing the same garbage on MTV and BET.  Then this track came out and it was the best release for frustrated hip hop fans.  You can still feel that energy when you listen to Ante Up.
Top Tracks
Welcome to Brownsville, Everyday, Warriorz, G-Building, Old Timerz, On the Front Line, Follow Instructions, Calm Down, Power
Links
M.O.P. Homepage (www.MashOutPosse.com)
Ronin