Featured Music:
El-P, Drones Over Brooklyn
OJ Simpson, Trendsetters
RA-NYC Presents Culture Customized: SneakerPimps NYC 11/11/11
Sneaker Pimps is the worlds largest touring sneaker hip-hop lifestyle exhibition featuring over 1500 pairs of rare, limited edition, vintage, celebrity signed, artists collaborated sneakers and a collection of sneaker inspired artwork, fashion and photography. The tour also features live street art installations, live skateboarding demonstrations, street basketball competitions and live hip-hop and rock performances by some of the world's foremost recording artists.
For the second straight year, RA-NYC has participated in Sneaker Pimps NYC. This year, Ronin focused on the experience of the show and rather than setting up a booth.  An impressive list of performers hit the stage at Sneaker Pimps NYC 2011.  It took a little while for the crowd to warm up (or for the liquor to do its work), but by the end of the night, it was live in Irving Plaza, Union Square.  Willis Freeman, Blake Carrington, Kris Kasanova, Nyemiah Supreme, Siya, Bizz-E BlazE, Phil Ade, Stally and Kenrick Lamar all performed in the packed event.  Wacka Flocka, Mos Def, Asap Rocky and Jim Jones were in the building too.
[gallery link="file" order="DESC" columns="5"]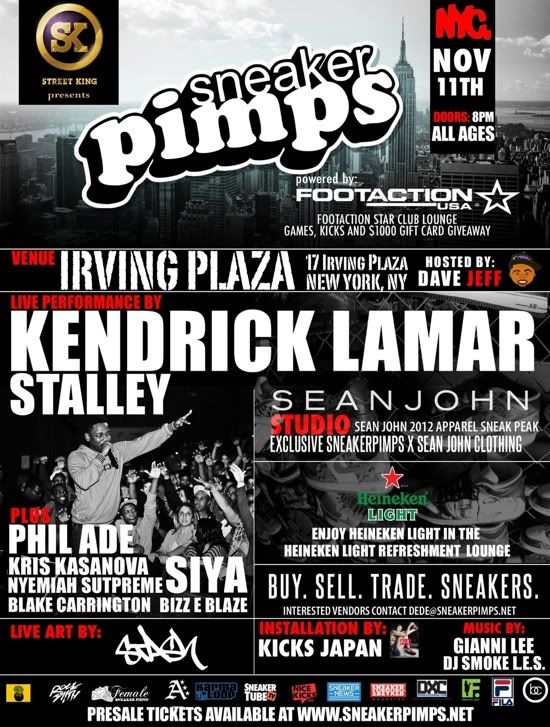 Ronin